Pinterest is good for so many things and one of them is helping me uncover my obsession with organization. So many ideas by so many smart people! I'm actually reading this book right now from the library. I feel like I'd violate some copyright if I scanned a picture from the book just to pin it, but there are great ideas in there.

I also owe Pinterest a huge debt of gratitude for introducing me to my new favorite blog, iheart organizing. So when I saw Jen's organizing challenge post, I thought it was a perfect opportunity to prove that I actually DO the things I see on Pinterest. (Well, some things anyway, I do have a toddler.)

Alas, I have created some pretty storage!


I found
this pattern
to make the boxes. I liked the idea of a pattern because I could custom-make the boxes to be the perfect size for my use. These are simply cereal boxes, covered with scrap fabric. Cheap? Yes. Green? Yes. These facts only add to their awesomeness. With the pattern on hand, I went to work. I emptied the drawer and put back only the items I use frequently, since it is the top drawer of my crafting desk.
I arranged the items to fit within the drawer. I measured my biggest item, my adhesive runner, and designed a box to fit it perfectly. I used the chipboard that comes on the back of a 12x12 scrapbook paper pad for that one. I took some scrap cotton fabric and covered the box and lined the bottom. I used some Beacon's 3 in 1 craft glue to adhere the fabric to the box, but I think I'd like to try a glue stick next time (the method suggested in the box pattern).
The rest was like playing Tetris. (I knew it would have a real-life application some day!) I measured, then made boxes to perfectly fit the drawer as well as the tools and I LOVE the result.
Only 9 more drawers to go (in THAT desk!) Linking with: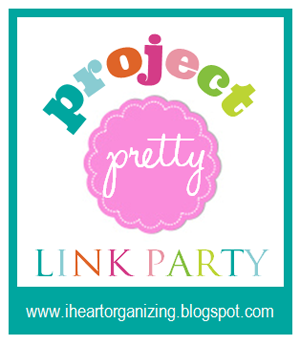 About Me

Blog Archive